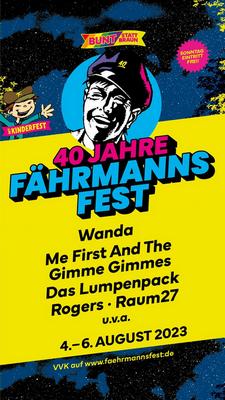 4. – 6.8. auf der Fährmannswiese in Linden.
Das Fährmannsfest ist das größte alternative Open Air-Musikfestival der Region Hannover und zugleich ein außergewöhnliches sommerliches Stadtteil-Fest für Groß und Klein. Es ist das Fest des bunten Volkes und Kult nicht nur für die hannoversche Musik-Szene. Was 1983 als kleines Sonntagsvergnügen begann, ist mittlerweile zu einem ganz besonderen Highlight in Hannovers Event-Kalender geworden und hat bisher über 400 Bands eine Bühne geboten.
Alljährlich am ersten Wochenende im August feiert Hannover in einer Grünanlage an der Justus-Garten-Brücke beim Zusammenfluss von Ihme und Leine drei Tage lang sein Festival – mit jeder Menge Bands, Sonnenuntergangsflair über dem Fluss und Geselligkeit bis weit in die Sommernacht hinein. Das Fährmannsfest ist ein Festival an einem der schönsten Standorte der niedersächsischen Landeshauptstadt.
Neben den Headlinern Wanda, Me First and The Gimme Gimmes, das Lumpenpack Rogers sind schon viele weitere Bands bestätigt.
Hier seht Ihr die aktuellen Bands https://faehrmannsfest.de/line-up/